Over our thirty year history, one thing has remained constant: our commitment to our customers. This means listening to their ideas and responding with prompt, creative solutions to their needs. We know every customer and every project is different and each one has unique needs that require different types of service and delivery methods. Some customers may simply need a budget to support their feasibility study, others may need assistance in selecting a site or building and others may desire complete Design-Build services. With the understanding that every client and every project is different and there is no "one size fits all" delivery method, we have developed a variety of approaches to meet our clients unique requirements. We believe in being flexible and creative in meeting our client's needs. We are skilled and experienced in providing all types of delivery methods from Design-Build to CM/GC at Risk. We do our best to determine the best delivery method for each of our projects.
More often than not, our clients bring us in upfront as part of their team to help with entitlements, establish preliminary budgets, create detailed schedule, assist the Architect and Engineers with constructability issues and creating clash detention models. We are often asked to inspect buildings before they are purchased or leased, create as-built drawings, oversee demolition of existing improvements and provide all levels of value engineering. Our early involvement helps to make projects more viable. Make Steed Construction part of your next design team and see how much value we bring to your project.
Our experienced team of Superintendents, Project Managers, Project Engineers and Tradesmen are some of the best in the business. They understand the processes and codes. As part of our Quality Control process, for example, they set benchmarks and double check everything against those pre-approved benchmarks. They create and regularly update project and short interval schedules to insure on-time completion of our projects. Our safety program insures safe job sites and our excellent safety record helps us provide lower labor and insurance costs to our customers. When appropriate we implement "LEAN" Construction processes to insure efficiency. Make Steed Construction part of your next project and see what our experienced staff can do for you.
The design and construction of buildings is an increasingly sophisticated and challenging process. Having completed several hundred successful Design-Build projects with several architectural firms, Steed Construction has proven that when the construction and design professionals work hand in hand starting early in the process, the challenges get worked out, the drawings are more constructible and there is a harmony throughout the project team. This is why Design-Build and Design-Assist are our preferred delivery methods. We have a passion for being creative and solving potential problems early in the process. We know that an integrated design and construction team brings real value to our clients and their projects.
Our experience has proven that Design-Build and Design-Assist delivery methods save time, money and even helps the permitting process. Our staff is experienced to help coordinate all architectural and design actives on Design-Build projects and working closely with all the design professionals on Design-Assist projects. Make Steed Construction part of your next team and learn what value our experience brings to your projects.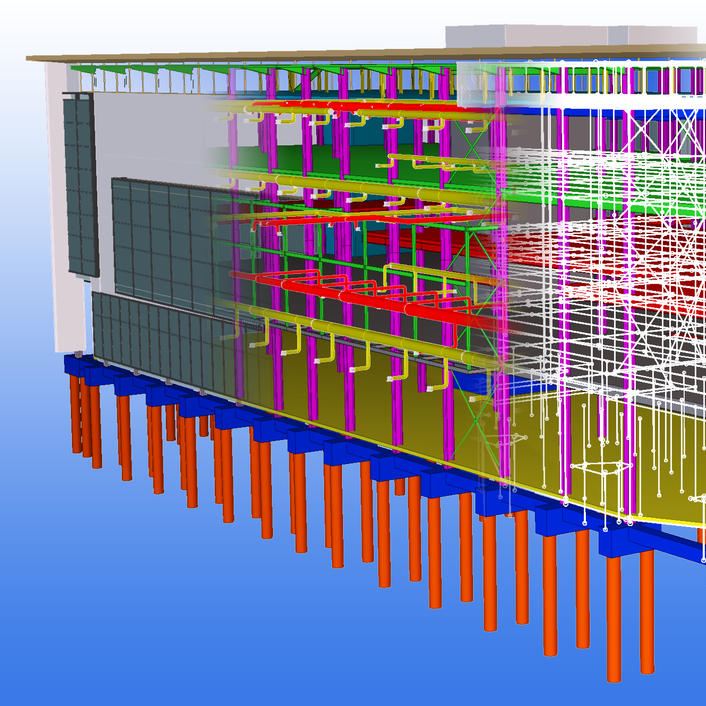 The term "BIM" is relatively new in the design and construction industry and stands for "Building Information Modeling." For years architectural plans were drawn by hand in two dimensions, with the invent of the computer and CAD software, the hand drawings were converted to 2-D computer generated drawings. As computers and software became more powerful, the plans could be drawn in 3D with assemblies. This was a huge step forward in technology. Forward thinking companies like Steed Construction have acquired the skills and tools to implement this technology and take it further by incorporating pricing and schedules into the model, creating another dimension (4D and 5D). We can also add building energy efficiency and materials life cycles. There is no end to what can be incorporated into the models so the term is now XD.
At Steed Construction we embrace new technologies and methods like BIM and are excited to bring these advances to the projects we are involved with. We are excited what new process will become part of the design and construction industry in the future and we are doing our best to sort through and find the ideas and processes that bring real value to our clients and their projects. Invite Steed Construction to bring these advances to your next project.
Stopping to admire one's accomplishments after all the hard work is human nature; but we know that stopping after a building is built would be foolish. A building has complex systems and even though the construction may be done and everything is in working order, there are many items left to be done. There are punch lists to complete, warranties to be documented, lien laws to be satisfied and documentations to be delivered among other things. At Steed, we understand that construction is just a part of the project's cycle. We do our best to ensure our projects are complete and our clients are happy and satisfied long after the construction phase is done.
We promote the importance and significance of green building practices throughout the company, encourage LEED® (Leadership in Energy and Environmental Design) accreditation among our employees, and incorporate these principals into our general contracting, design-build and management services.
Green Building Practices can substantially reduce or eliminate negative environmental impacts while improving existing non-sustainable design, construction and operational practices. As an added benefit, green design measures reduce operating costs, enhance building marketability, increase worker productivity, and reduce potential liability resulting from indoor air quality problems. We are passionate about the entire green and sustainable process that makes it intrinsic to everything we do in order to deliver a higher quality facility and experience for our clients.
Several of our experienced staff maintain LEED® Green Associate, LEED® AP and LEED® AP BD+C accreditation.
To assist customers with developing and implementing the best strategy to meet environmental and business goals, we combine experienced personnel with collaborative methodology and custom tools to achieve sustainable success. We also offer a wide variety of high-performance green building services tailored to fit the specific needs of any client and are are prepared to deliver the most innovative services to move businesses forward. We understand firsthand what our owners need, and we leverage our technical and green expertise to deliver. Through our leadership we help facilitate projects seeking LEED® certification starting with Design Charrettes and throughout the construction and commissioning process. We help ourselves and the entire team focused on the projects vision, goals and strategies to make sure they are accomplished.